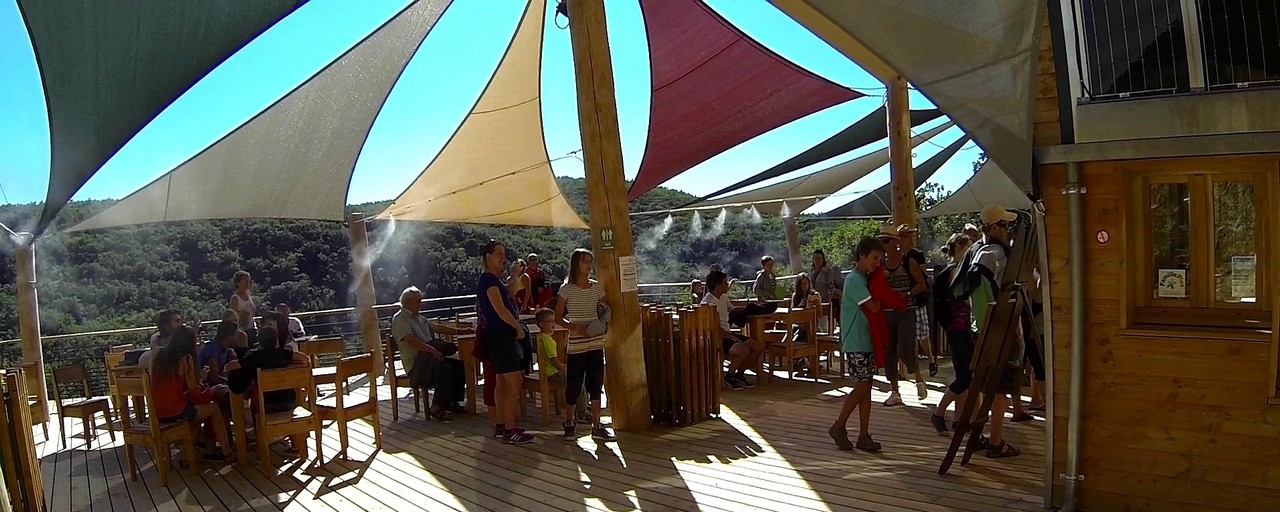 On the Grotte de la Salamandre site, for all ages

In addition to discovering the Grotte de la Salamandre by the Guided Tour, the Grand Rappel and the Coulisses, the site of the Grotte offers services and activities that will allow you to spend half a day or a full day on the spot, taking full advantage of our beautiful terrace and neighboring facilities.
The site has been open to the public since 2013. It has been awarded 2 stars by the Michelin Green Guide and is labeled "Qualité Tourisme", "Sud de France", "Tourisme et Handicaps" and "Famille Plus", for your comfort and safety.
You will appreciate the architecture of the welcome center that we owe to the architect Jean-François Daures.
Refreshment, Snack, Artisanal ice cream and other Sweets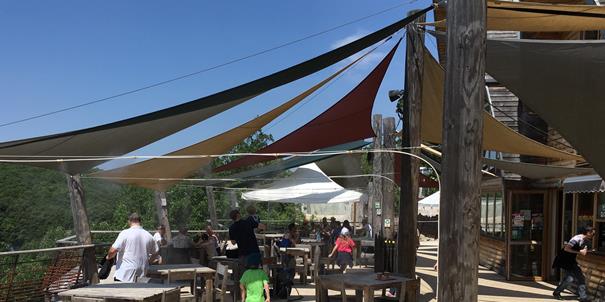 Enjoy the terrace to quench your thirst, savor a small snack or enjoy an icecream!
We offer a wide choice of drinks as well as "slates" (the "speleo" and the "vegetarian") made mainly from local products. These products, as well as our homemade ice creams and other sweets are served at any time!
The terrace overlooking the garrigue – our green desert – is shaded and equipped with misters. From here you can see the children frolicking in their special adventure set.
The reception building houses a boutique that offers original and quality products.
Very beautiful minerals from the region and elsewhere, jewelery, organic cotton textile items, specialized bookshop, games for all ages and regional products.
We accept the most common forms of payment: cash, checks, CB, Visa, MasterCard, "Chèques Vacances"…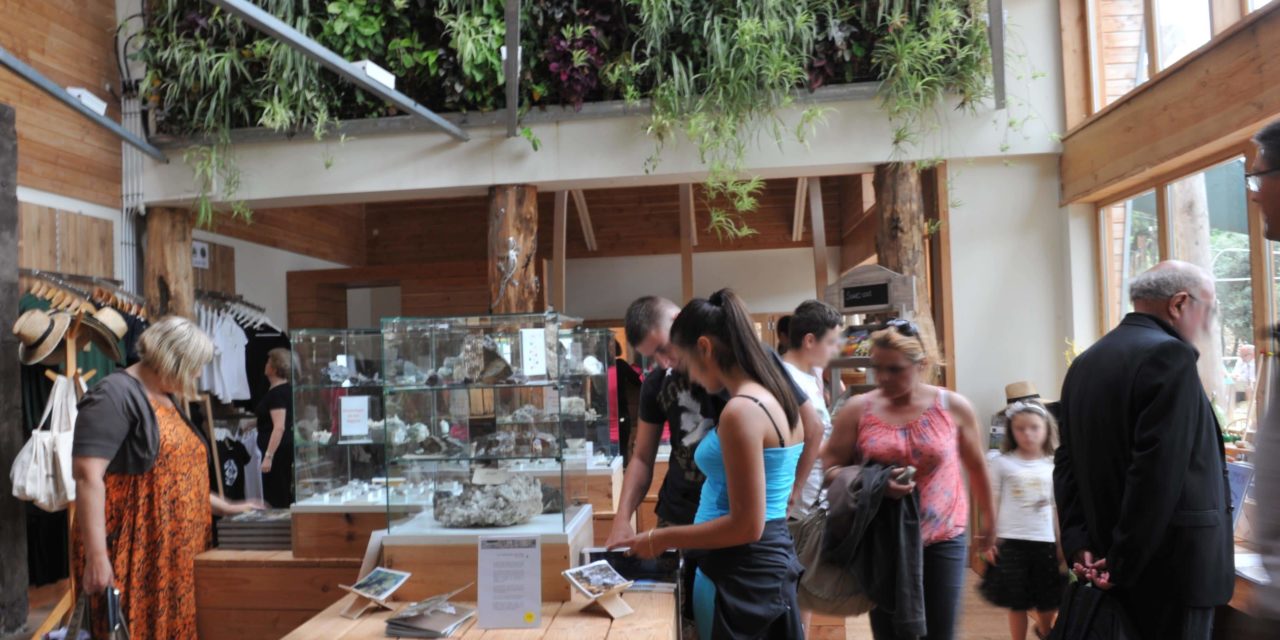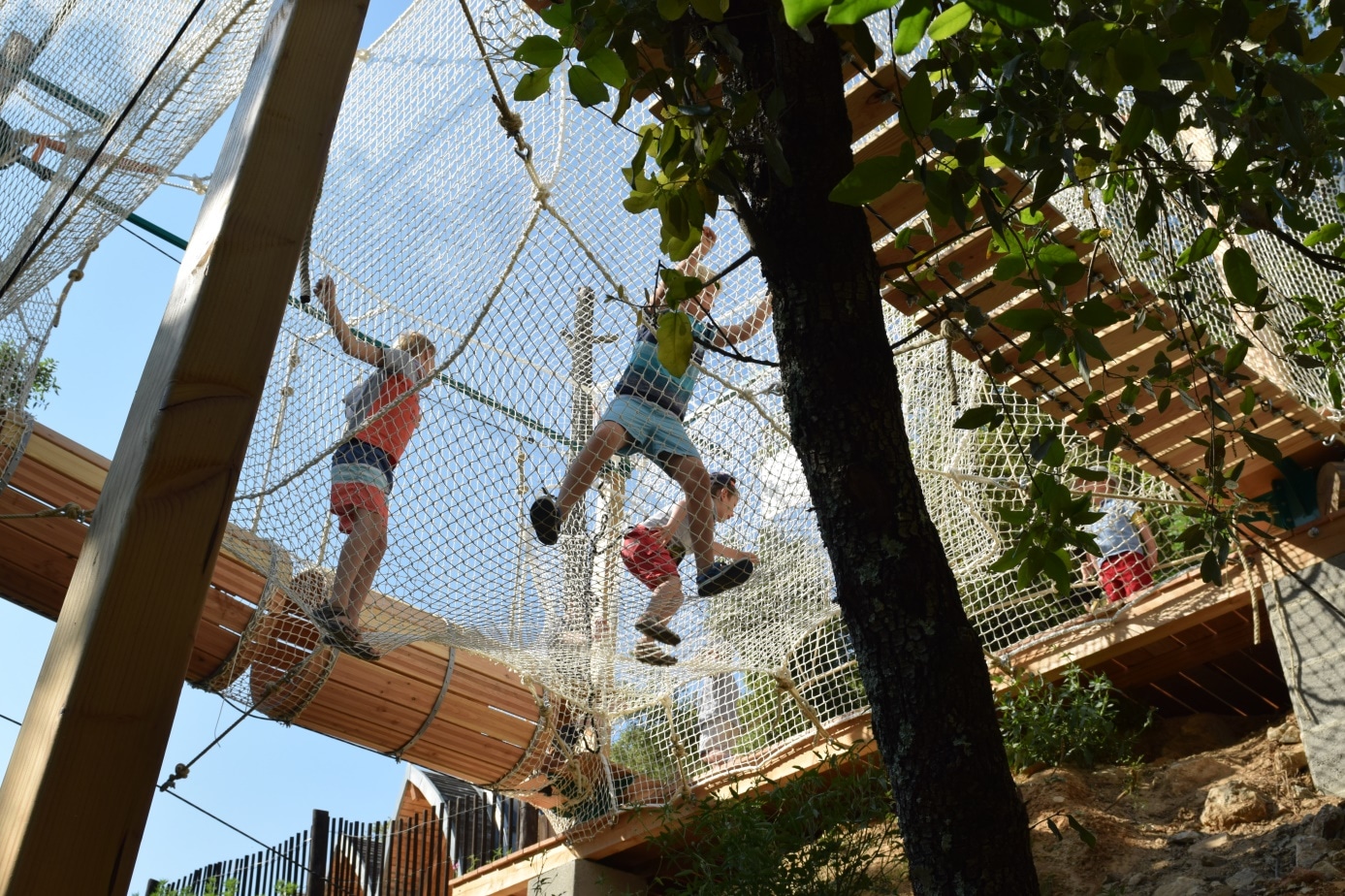 Children under 10 can not practice the
Grand Rappel
or the
Coulisses
. But we have designed a mini-adventure trail with safety nets all around, which allows them to practice activities at height, without equipment and in safety!
A free activity consisting of 5 workshops, suspended a few meters above the ground, and accessible from 3 to 12 years. The "Acro-Bambino" will give the kids real sensations, until they may, one day perhaps, try real spelunking …
For those who want to have lunch outside the crowd, the site of the Grotte de la Salamandre has a very shaded picnic area with large tables to accommodate about fifty people seated.
You will be welcome if you bring your meals, but you can also sit quietly with the products from our snack bar.