An Incredible Cave
A show unique in Europe
A very preserved natural site
Tours in French, English and Deutsch
Comfortable equipment
Wheelchair accessible
Two bus parks
Disabled car park and drop-off area
Amazing vegetal architecture
Shaded terrace with fogging system
Activities for all
Regular organization of events
Discover the Grotte de la Salamandre in Group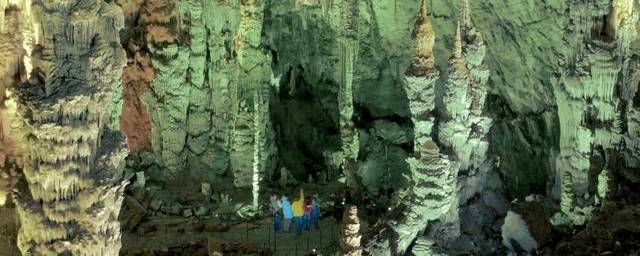 The Grotte de la Salamandre is an ideal  touristic site for your half day or full day group trips.
Open to the public in 2013, it has received "up front" 2 stars at the Michelin Guide and wears the "Qualité Tourisme", "Sud de France", "Tourisme et Handicaps" and "Famille Plus" labels. Those labels guarantee your comfort and your safety.
1 Grotte, 4 ways to discover it
The Guided Tour
(1 hour)

Groups of 50 people max. Visits are approximately 15 minutes apart.
On wide, secure and non-slip tracks, lined with continuous handrails, our guides take you to the heart of the Kingdom of the Crystal Giants.
Accompanied by lights and sounds evolving throughout the visit, you will discover the secrets of the Grotte de la Salamandre: its millenary history, but also its discovery and opening to the public.
The Belvedere
(non guided)

Groups of 60 people max, or 15 wheelchairs. Tours 30 to 45 mn apart.
Specially designed for the disabled people, the Belvedere is accessible in a wheelchair with no assistance and offers a unique overview of the Grotte.
From here, comfortably installed, you will see the light animations triggered by the other visitors who will join you at the end of their tour. This non-guided discovery is not limited in time.
The Grand Rappel
(1h30)

8 people per hour at most. For security reasons, we must know the age, weight and size of each participant.
The abseiling by the natural entrance of the Grotte de la Salamandre is accessible from 12 years and subject to a good physical condition.
Each group of 4 persons simultaneously descends the 50-meter abseiling, accompanied by a State Patented guide.
At the end of the descent, you will reach a group of visitors with whom you will follow the included guided tour.
The Backstage
(2h30)

Per group of 8 people. Several groups may be spaced at intervals of 30 minutes. Requires good physical condition.
Discover the hidden galleries of the Grotte. They will give you beautiful surprises at the turn of a gallery, but you will have to deserve them!
Accompanied by a guide State Patented guide, two hours of an easy, varied, but a little sportive experience…
Count 2h30 to 3h00 on site to take full advantage of this exceptional course!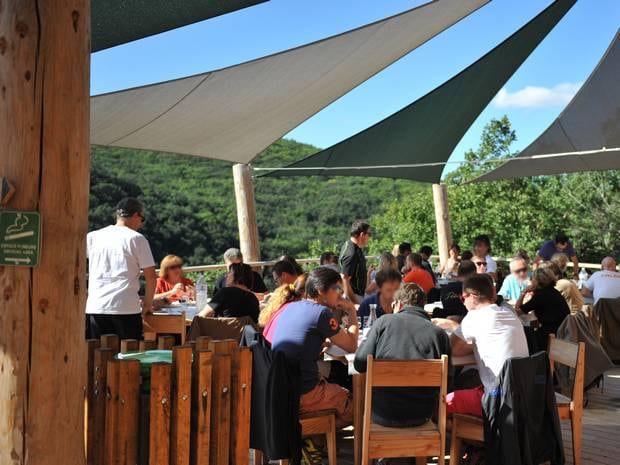 Enjoy our terrace to quench your thirst, savor a small snack or taste an ice-cream!
Shaded and equipped with misters, the terrace has tables that we can arrange at your convenience, up to 90 seats.
A large tent will shelter you in case of rain.
The site houses a shop that offers original and quality products. Very beautiful minerals from the region and elsewhere, organic cotton textile items, games for all ages and regional products.
Look up and admire the superb vegetal wall that adorns the ceiling.