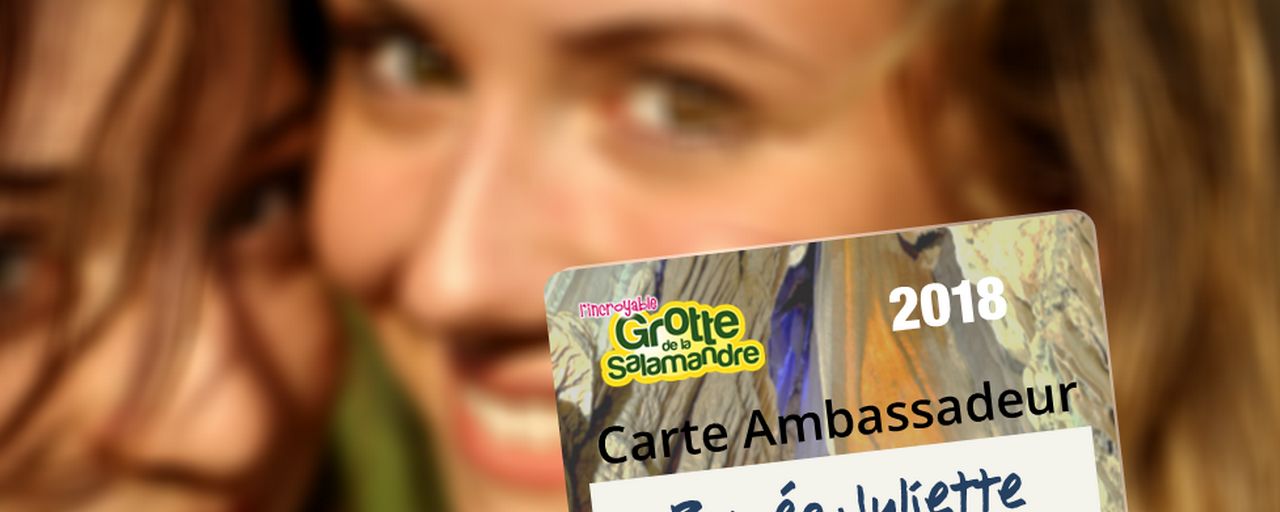 Become our Ambassador!
For 1 € more, enjoy and make your friends enjoy many benefits on our site and those of our partners
Welcome to the network of Ambassadors of the Grotte de la Salamandre. You appreciate our site and its team; you want to discover it to your friends; you are already talking about it around you and on social networks. To thank you for that, we would like you to become our Ambassador. With your Ambassador Card, you will now enjoy the following benefits:
1 year unlimited access to the Grotte (Guided Tour or Belvedere)
Buy your first ticket of the year at full price + 1 €, and come as many times as you like. You will be at the Grotte as at home!
Reduced rate for the people who accompany you
The people who accompany you or who carry your card (you do not have to come every time …) receive a reduction of 1 € per Guided Tour, adult or child. *
Gifts or discounts at our partners
The following sites will be happy to offer you gifts or preferential rates *:
Restaurant l'Italiano in Méjannes le Clap: 10% discount on the bill
Camping le Dolmen in Méjannes le Clap: 1 free house drink
Cèze-Canoë in Saint-André de Roquepertuis or Goudargues: 10% discount on rates
Les Ballades du Val de Cèze (horse back riding) in Goudargues: 10% discount on rates
The Grand Site de l'Aven d'Orgnac: 2 € discount on Adult ticket and 1,3 € discount on Child ticket
Château des Roure at the Bastide de Virac: 10% discount on rates
The Lavender Museum in Saint-Remèze: 10% discount on rates
The Museum of Ardèche: 10% discount on rates
Stay connected, others will join us soon!
Discounts on caving activities (Grand Rappel, Backstage ...)
You and your friends receive a 10% discount on the famous Grand Rappel and the Backstage.
10% discount at the Grotte shop
Get a 10% discount on most items in our shop (excluding bookstore and red dots). *
Be the first to know what's happening at the Grotte
Of course, your title of Ambassador guarantees you to be among the first to know what happens at the Grotte. This way, you will not miss our concerts or flying the Aeroplume.
How to get your Ambassador Card
When you purchase a Guided Tour, Belvedere, Backstage or Grand Rappel ticket, all you need to do is ask our host staff to join the Ambassador Program. It will cost you 1 € which will be added to the price of your ticket. In exchange, we will give you a numbered card on which will appear your name. This Card will instantly entitle you to all of the above benefits for the entire season.
The Ambassador card is personal and the people to whom you lend it will not enjoy the same benefits as yours. For example, they will receive a discount of 10% on their next visit while for you this next visit will be free.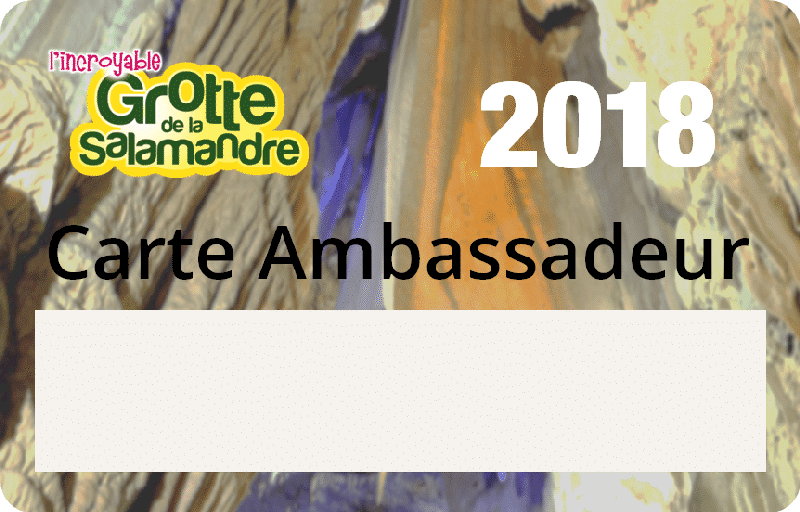 You can download the rules of our Ambassadors Program by clicking here.
You can also order your ambassador card by booking your ticket on Internet. We will give it to you when you visit our front desk at the Grotte.
* not combinable with other promotional offers