in the heart of a wild nature
the Land of the Crystal Giants
the Land of the Crystal Giants
the Land of the Crystal Giants
the Land of the Crystal Giants
the Land of the Crystal Giants
The Incredible Grotte de la Salamandre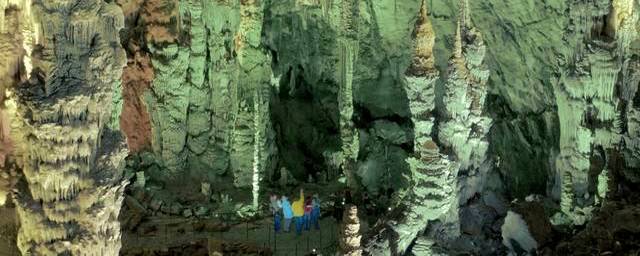 The Grotte de la Salamandre is an enormous chamber surounded by the "Crystal Giants", splendid titanic stalagmites.
Discovered in 1965, open to the public in 2013, 2015 tourism gold medal (more…), it now welcomes ALL PUBLICS in a fairy of lights and sounds, where "Natural" lighting alternates with incredible colors.
The Guided Tour

A fascinating guided walk in the middle of the Crystal Giants
The Belvedere

A non-guided overview of the cave, accessible to all.
The Grand Rappel

An unforgettable 50-meter descent, with family or friends
The Backstage

A playful, aesthetic and a little sportive exploration.
The Aeroplume is back !

At the general request, the Aeroplume returns from April 8th to 23rd. So, if you weigh between 40 and 80kg, you too can fly in the Grotte!
Concerts and Events

Find the schedule of our concerts and all the animations that will take place in 2017 at the Grotte. Live with us unforgettable moments.
Come to the Grotte de la Salamandre
Between Provence,
Camargue,
Ardèche
and Cévennes.
Between wild canyons,
hilltop villages
and unusual nature.
Halfway to the Pont du Gard
and the Caverne du Pont d'Arc.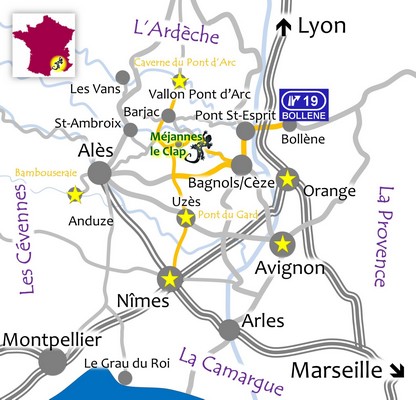 Barjac : 20mn
Uzès : 30mn
Bagnols/Cèze : 30mn
Vallon Pont d'Arc : 34mn
Alès : 40mn
Anduze : 50mn
Orange : 55mn
Nîmes : 1h
Avignon : 1h
Montélimar : 1h15
Arles : 1h20
Montpellier : 1h40
Marseille : 2h
Lyon : 2h30